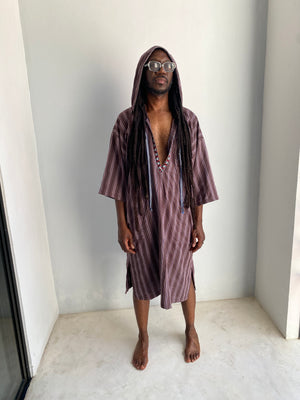 Djoodie.com
"The Marseilles" Djoodie in French Cotton
販売価格 価格 $350.00 通常価格 単価 / あたり
Ethically + Sustainably Made In California. 

Non-Gendered. One Perfect Size. 
One chest pocket, two side pockets.
Side slits reach through to access inner clothing pockets if you wear inner clothing.

Wear over clothes or commando, indoors or out.
Will last a lifetime and be a favorite item forever.

Sustainable care: Cold water wash. Hang dry. 

Press with light iron if a more finished look is desired.

No dry cleaning needed.

French cotton in chocolate brown with ticking stripes in blue, white and red - all one piece of fabric for beautiful draping that fits and feels incredible.

Hand-fringed Japanese Sanada Himo ties.

Neck seaming finished with Japanese woven cotton herringbone.




Limited edition of 30.